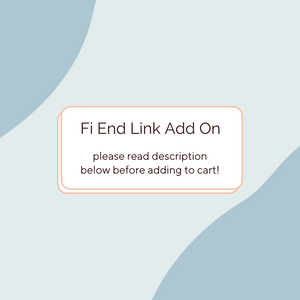 Fi End Link Add On
I'm excited to finally be adding Fi End Links to the shop after MONTHS of having them!!! Please read the full description and be patient as I might possibly reach out to ask more questions!
 - Please note that adding the Fi links take off 2-3" off of my regular sizing for collars so please select the size collar you normally purchase but note how many inches your dogs neck is so I can guarantee that it'll fit!
 - Please also list what collar you are wanting to add the Fi End Links to if you're purchasing more than one collar
Thank you for being a part of this exciting time of the shop releasing new products!!
---