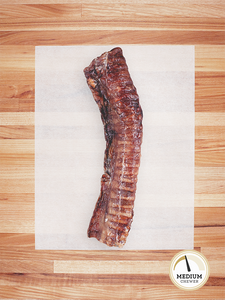 Farm Hounds - Bulk Chew: SMALL Beef Trachea 3"-5"
The product picture listed is of a LARGE trachea that is 8"-10". The trachea you're purchasing on this listing is half that size.
A great chew for all sizes! These highly digestible dehydrated chews come from 100% pasture-raised beef. Hormone-free and humanely raised. No antibiotics, No chemicals, No pesticides. Sourcing: One of our amazing farm partners, including Thousand Hills Lifetime Grazed and White Oak Pasture.. ***We choose to source from working farms which means animals may not mature on our timetable. At times, this means we will not have access to unlimited inventory.

---
We Also Recommend
---