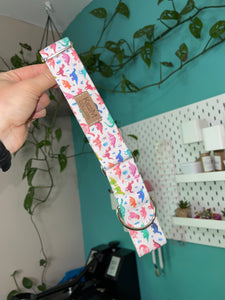 1.5" Medium Multi Dino Martingale - RTS Sale
The Fabric Martingale collar has two loops, the larger loop going around the dogs neck and the smaller loop with the welded D ring that attaches to the leash. When your dog pulls, the small loop tightens and creates tension, allowing you to correct your dog's pulling without choking them. When your dog is walking nicely and isn't pulling, the collar rests comfortably, without any tension. This collar option is recommended for pullers.
Martingale (MG) Collar Sizes:
XS - 9-12 inches
S - 11-15 inches
M - 15-21 inches
L - 18-26 inches
XL - 23-31 inches
★ How to measure for a Martingale Collar:
Measure the largest part of your dog's head and the middle of their neck. If your dog's head is larger than their neck, you'll need a collar that can fit comfortably over their head. If their neck is larger than their head, you'll need a collar that fits comfortably around their neck. Choose a collar size where your measurement is in the middle of the size range. For example, if your dog's neck is 21 inches, choose the 18-26 size that is rather than the 15-21 size.
---
We Also Recommend
---